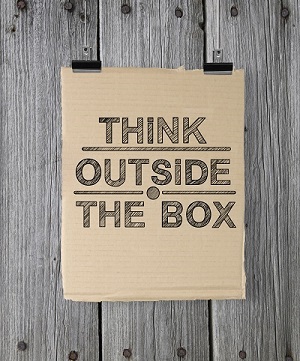 Custom Business Card Ideas, to Help You Stand Out from the Crowd
Published: Monday, 20 November 2017 13:06
W
hether you are a brand new or established business, the humble business card is still a hugely relevant and valuable marketing tool. Go to any networking event, for just about any industry, and you will see business cards being exchanged back and forth between prospective colleagues and customers. It is a tried and tested way to network and market your business.
Sadly, not all business cards are created equal! Ever had someone hand you a business card, which looks like a cookie cutter design (think 90s clipart and cheap paper)? There is a flood of online options, to create cheap business cards, using a template, with little customisable options. These low-quality cards, usually on cheap paper, do nothing to enhance the reputation of your business, and usually end up looking quite amateur. A far better option is to spend the time to create a well thought out logo and business card design. Consider some of the below professional industry tips, to create a memorable business card and enhance your marketing efforts.
Finishing Options
A great way to help your business card stand out, is a unique finish. Rather than going with the standard matte finish, think about trying a more unique option, such as using spot gloss varnish or 3D UV gloss to enhance certain areas of your card (eg. Over your logo or an image). This will create a clear gloss watermark / pattern in the background. Or you could emulate a foil/metallic effect/finish, to help catch the eye.
Speak to your Printer about the different finishing options, that can enhance the look and feel of your business card design. Various Printers will offer different options, depending on their equipment, so make sure you shop around, to make sure you can get the customised finish you require.
Size & Shape
A standard business card is 90mm x 55mm – but why not mix it up! Changing the orientation or size of your card is all you need to make an impact. Or even change it to a custom shape, that is relevant to your business. Think square cards, or even a quirky shape, such as a dog bone for a pet company, or coffee cup for a café. You are really only limited by your imagination, so chat to your Printer about design options.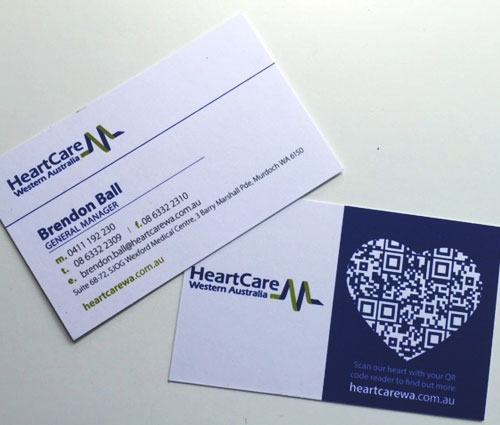 Keep Your Colours Consistent
To maintain a consistent brand image, you need to ensure your brand colours match, across your different marketing materials, including your signage and printed stationary. There are plenty of tips about choosing the right brand colours for your industry and target market. One suggestion is to select two main brand colours, and add an accent colour which can drive your design to the next level. Colours can create completely different feelings among your customers, so make sure you do your research, and choose your colours wisely. Designers frequently use the 60-30-10 rule for colours, which suggests three distinct colours are used in the ratio of 60%, 30% and 10%. This is a simple yet effective way to create a design that works for your business.
Offset printing is best, to achieve a precise colour match, for quality and consistency. Speak to your Printer about the best printing technique to achieve your exact colour match.
Business Card Stock
There are variety of colours, weight and texture, when it comes to the stock your business card is printed on. Rather than going with the standard 330gsm coated artboard, why not consider a different stock, such as recycled paper, uncoated or textured or other specialty stocks. You can consider printing on a metallic card in white to make it stand out. Or try laminating the card in something that feels interesting, such as felt, leather, or metallic. Printing over these in white or spot gloss varnish can look very effective, and help your card design pop.
Check Your Artwork
None of us can afford to waste our marketing budget, so make sure you check your artwork, to ensure there are no spelling or other errors, to avoid having to re-do them. At G Force Printing, we offer our customers access to an Online Print Management System. This allows you to view product proofs and pricing for various quantities as well as order/reorder at any time of day in just a few simple steps, and receive instant confirmation. When you get new staff, you can login and edit business cards details yourself online and view the changes, avoiding any delays.
G Force Printing are Perth based expert printer and specialise in custom made business cards, to suit your business and budget. We offer 24 hour turnarounds for the Perth metro area, so give us a call and we can help you create custom designed business cards, that will help your business stand out from the crowd.