Business Stationery Printing
Boost the reputation of your business or company with quality printed business stationery, printed by the professionals. We offer a range of business stationery products & services, including business cards, envelopes, company letterheads and more.
Show existing and potential customers how important quality and attention to detail are to your business through uniquely designed business cards, invoice books, letterheads and other custom stationery.
Deciding on things like which type of paper to use and the best method of printing are very daunting when you aren't familiar with all the print jargon and options available. Our devoted team of stationery experts can help you create stationery that makes your business stand out, guiding you through this process to ensure you will be happy with the end result.
Our design, print and finish services are all completed under one roof so we can ensure each stage of the process will complement the next and that your expectations match the results. Make your business stand out from the rest.
Did you know that laminating your business cards will darken colours? That the same spot colour will look different on a coated and uncoated stock? Or even what a spot colour is? Colour and consistency are so important to the branding of your business so don't leave it up to chance, make sure to utilize our knowledge instead.
With 20 years' experience in graphic design, print services & business stationery products, we know what works for our customers. With our help & guidance you don't need a huge budget for us to deliver impressive business stationery that will make an impact.
Our range of business stationery products & services include::
This is just a sample of the range of business stationery we can help design & produce. Please contact us to discuss your unique requirements.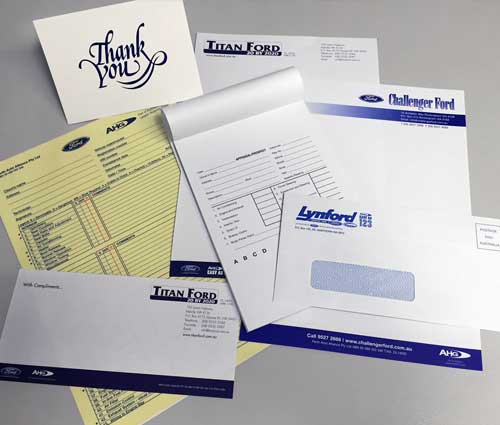 !--
View Pricing
-->
Contact Us